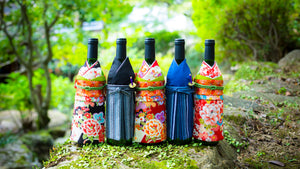 Sharing Japanese culture with the world through Japanese goods
At WANOKURA, we sell original Japanese goods with a focus on "Kimono Bottlewear",
which has received many awards in Japanese souvenir contests.
"Kimono Bottlewear" refers to kimono-shaped bottle covers
that allow one to enjoy the traditional culture of Japan just by putting it over a bottle.
How about introducing Japanese culture as interior decoration or as a gift to a friend who likes Japan?
◆ AWARD HISTORY ◆
*Chinese Embassy Award and Special Jury's Excellence Award
At the 58th Recommended Japanese Souvenirs Contest 2017
*Minister of Land, Infrastructure, Transport and Tourism Award
At the 56th Recommended Japanese Souvenirs Contest 2015
*U.S.A Prize
At the Japanese Souvenir Contest 2009 (Visit Japan Campaign)